What is it?
Recovery Links Nottinghamshire is a new service for people who have concerns about their own or another's drinking or drug use.
Who is it for?
This is a service for adults aged 18 and over in any part of Nottinghamshire.
What will it offer me?
A county-wide information telephone and webchat service, providing accurate information and signposting to local and online support.
1-1 support to help you identify and reach your goals around your drinking/ drug use.
An online programme of groups and short courses to help you to reach these goals.
Training & volunteering opportunities to improve your skills and prospects.
Telephone & web chat
This part of the service aims to provide information and advice about how and where to get support for your own or someone else's alcohol and/ or drug issues. It is not a counselling service and may need to signpost you to emergency or crisis services if you need more support. It is staffed by friendly, trained staff and volunteers at the following times:
How do I find out more?
Call the Help & Information Line on 01623 272838 or contact us via webchat using the purple button at the bottom of this page.
Outside of these hours please leave a message and we will get back to you as soon as possible.
Calls are charged at local rates or we offer a free 'callback' service.
Using the telephone and web chat service
We offer a confidential service and will not share any information about you or the content of your contact with us without your consent. We ask for some information about you to help us measure the effectiveness of the service and the number of calls/ queries we deal with. For full details of the information we request and store about you, and the rare circumstances under which we may need to break your confidentiality, please see the information below.
---
Double Impact Services is a member of the Helplines Partnership - this means we have met the relevant criteria to become part of the membership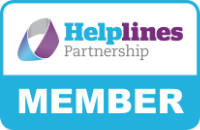 Sign up for all the latest info and tips about how Recovery Links Nottinghamshire can help you